British Values
At Seven Hills Primary School we value the diverse ethnic backgrounds of all pupils and families and undertake a variety of events and lessons to celebrate these. We have found this approach to be enriching for all parties as it teaches tolerance and respect for the differences and similarities in our community and the wider world. Underpinning all of this are a range of curriculum topics which have strong links to the British Empire and Commonwealth.
Parental Comments
As part of a questionnaire to parents one of the questions asked: What do you think is meant by the term, 'British values'?
There was a range of answers but the most common were as follows:
Fair Play Honesty Integrity
Politeness Respect of others beliefs Heritage
Learning about Heritage
As a school we believe that understanding of our children's own heritage is a vital part of valuing themselves and their community as well as helping individuals to have tolerance and respect for everyone in our society. Our 'Stephen Lawrence' work has involved the study of countries, such as Poland and China, where some of our children originate, whilst we also study our heritage closer to school. One such study undertaken by our Year 4 children involved a research project about the Skatcherd Shield. Below are some of their research findings:
The Skatcherd Shield
The shield has been with the school for over 50 years, since 1962, and is now mounted in a cabinet and hung on a wall in the reception area, outside the leadership office. It has an inset picture of Queen Victoria (1819-1901) and written across the top it says 'Morley Elementary School Challenge Trophy for Athletic Sports.' An angel stands above a crest directly above the picture of Queen Victoria, while below a relief of boys and girls can be seen taking part in various sporting activities, including running, cycling and jumping.
In the centre and directly below the image of the Queen is a miniature plaque which carries the words 'Oliver Scatcherd, Morley, AD 1900, being the second year of his mayorality of the borough. On the occasion of his founding an annual athletics competition, with the desire it may help to foster and encourage healthy and beneficial athletic exercise.'
The former mayor was, by all accounts, quite a character.
In fact, the Scatcherd family has a long association with Morley but Oliver was the last of his line to live in the town.
He was born at Morley House in 1833 and was the sixth youngest child of Norrison, a local historian. He worked as a solicitor and had a passion for sport, especially cricket, being the founding member of Morley Nelson Cricket Club. In 1862 and 1863, he helped organise a visit by the All England Eleven to Morley and he was one of the 22 who played against them.
He also helped form the northern branch of the Royal Society for the Prevention of Cruelty to Animals and for the first seven years of its existence, was its secretary.
He married Alice Smith, who was both talented and wealthy and had a reputation as a vociferous supporter of the equal rights movement. He first became a councillor in 1886 and served as one until his death almost 20 years later.
"He was mayor in 1898 and 1899, a period characterised by his and his wife's passion to improve the lives of schoolchildren. The inter-school shield was first won in 1900 by St Peter's and was keenly contested each year thereafter." Clive McManus, chair of Morley Local History Society, visited the school to tell children more about the shield, along with Coun Shirley Varley, a former pupil at Peel Street Girls who recalls taking part in some of the events as a child.
Mr McManus said: "Some of the events were quite fun. There was a three-legged race, an egg and spoon race, a potato race, which involved children running a distance and having to pick up potatoes, then run back. There was also a sack race, a wheelbarrow race, cycling, skipping, an event where you had to knock wickets down.
"There were five elementary schools in Morley in 1900, catering for four-12 year-olds."
Coun Varley said: "I remember us going up to the cricket club as part of the annual sport event. I was one of the fastest girls and I ran the 100yds in 12.1 seconds, a record which stood for some years.
"School was different in those days, boys and girls were taught separately and there were different events for the boys and different ones for the girls."
However, the last time the shield was presented was in 1962 to Peel Street School (now Seven Hills Primary).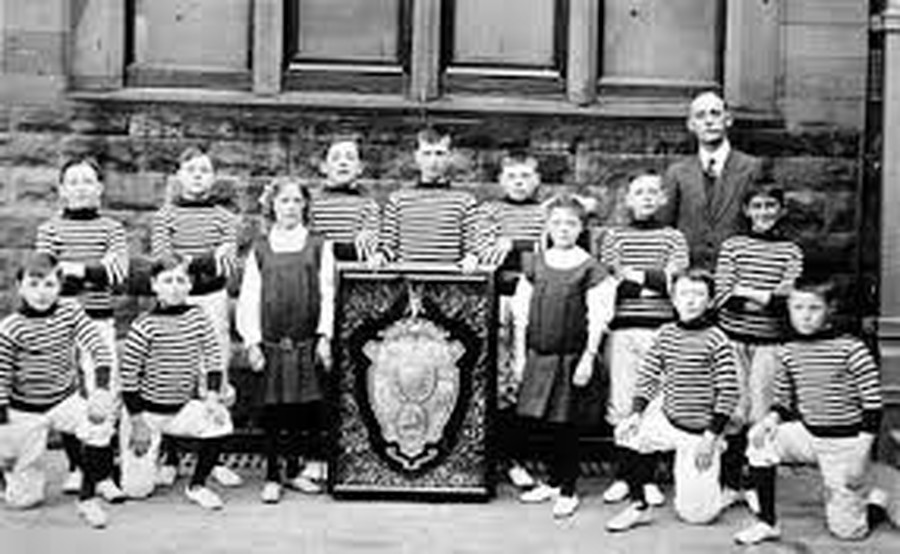 Many thanks to the Yorkshire Evening Post for their support in the research on the shield.
Last summer we also held a Community & Heritage day where visitors came in to school to talk about Morley's rich heritage and we visited many important areas, such as the Beryl Burton park and the Groundswork Trust, where they looked at aspects of Morley's Industrial past, present and future.
Curriculum:
Our curriculum has the 5 themes of British Values embedded in its planning and coverage.
Democracy
Children, parents and staff have many opportunities for their voices to be heard at Seven Hills. Democracy is central to how we operate. Children are always listened to by adults and are taught to listen carefully and with concern to each other, respecting the right of every individual to have their opinions and voices heard. We encourage pupils to take ownership of not only their school but also of their own learning and progress. This encourages a heightened sense of both personal and social responsibility and is demonstrated on a daily basis by our pupils – which was acknowledged by Ofsted in December 2017.
Our PSHCE and MINDMATE curriculum encourages all aspects of respect for democracy and the democratic process.
The election of the School Council members demonstrates democracy in action: the children nominate themselves, make speeches, and are then voted for by their class. Two representatives from each year group, and four from Year 6 meet regularly with the Deputy Headteacher and a school governor to discuss issues, ideas and new initiatives raised by the different classes. The council nominate charities to support and hold fund-raising activities and genuinely effect change within the school. This is a very important part of our ethos.
Other examples of 'pupil voice' are:
children agree their Class Rights and Responsibilities
individual children are appointed for posts of responsibility in the classroom such as class monitors and attendance officers
children have the opportunity to nominate and vote for others to receive a certificate for great learning or behaviour choices
using Pupil Feedback forms, children are asked to respond and reflect on teaching and learning/safeguarding
The Rule of Law
The importance of rules and laws, whether they be those that govern our school or our country, are referred to and reinforced often, such as in assemblies and when reflecting on behaviour choices. Pupils are taught the rules from an early age in the Foundation Stage and learn to understand the difference between right and wrong in all aspects of school life throughout the day. The children are aware of the consequences of not following the rules in their school community and opportunities for children to put right what has been done wrong, is encouraged wherever possible. At the start of the school year, each class discuss and set its own rights and responsibilities that are clearly understood by all and seen to be necessary to ensure that every class member is able to learn in a safe and ordered environment.
Pupils are taught the value and reasons behind laws, that they govern and protect us, the responsibilities that this involves, and the consequences when laws are broken. These values are reinforced in different ways:
visits from authorities such as the police, fire service, road safety officers
during Religious Education, when rules for particular faiths are thought about
during other school subjects, where there is respect and appreciation for different rules – in a sports lesson, for example
children learn about the origins of democracy and law in history lessons about the ancient civilisations
children who are particularly good role models, exemplary learners and highlight the ethos of school in their actions receive spotted stamps, certificates and prizes. They meet with the Headteacher and are celebrated in assemblies. Platinum children are rewarded with a special afternoon tea with the Headteacher and Deputy at the end of the year.
Individual Liberty
Alongside rules and laws, we promote freedom of choice and the right to respectfully express views and beliefs. Through the provision of a safe, supportive environment and empowering education, we provide boundaries for our young pupils to make choices safely; for example:
choices about learning challenges or activity
choices about how they record their learning
choices around the participation in extra-curricular activities
Our pupils are encouraged to know, understand and exercise their rights and personal freedoms and are taught how to exercise these safely, such as in our e-safety and PSHCE lessons. The social and emotional learning of our children is a huge focus at Seven Hills and because of this, we have achieved MINDMATE Champion status.
Mutual Respect
Mutual respect is at the heart of our values and ethos as we are: A place where everyone is valued. Children learn that their behaviour choices have an effect on their own rights and those of others, and that members of the school community should treat each other with respect.
Tolerance of those of different Faiths and Beliefs
We actively promote diversity through our celebrations of different faiths and cultures. Religious Education lessons, PSHCE and Mindmate lessons reinforce messages of tolerance and respect for others. Members of different faiths and religions are encouraged to share their knowledge to enhance learning within classes and the school. Throughout school life, the children are encouraged to discuss differences between people such as their faith, ethnicity, disability, gender or sexuality, and also differences in family life such as looked after children or young carers.