Our Vision for British Values

At Seven Hills Primary School, we are committed to actively promoting the fundamental British Values of democracy, the rule of law, individual liberty, mutual respect, and tolerance of those with different faiths and beliefs in a variety of events and lessons. These values are integral to our vision and ethos and form part of our wider work in school with children in relation to their Spiritual, Moral, Social and Cultural education (SMSC). Through a broad, balanced and engaging curriculum, we aim to develop their attitudes of determination, resilience, hard-work and bravery so that they are well equipped for life in modern Britain and understand the values that underpin it.

From nursery right through to year 6, we promote democracy by ensuring all children have a voice that is listened to. They are consulted about their learning and take part in activities where they all have the chance to vote, learning to understand and respect that their wishes may not always be the choice of the majority. Individuals from each class are also elected to the school council as representatives of their peers and meet regularly with the Deputy Headteacher and a school governor to discuss issues, ideas and new initiatives raised by the different classes. This, along with opportunities to hold mock elections during times of general or local elections, develops the children's understanding of how citizens can influence decision-making through such democratic processes and respect the basis on which the law is made and applied in England. Moving into Phase B, children are taught about the origins of democracy and deepen their understanding of different ruling systems by comparing them to modern day governments. This builds on their knowledge of how the rules of law expands into society and offers choices and consequences. Visits from outside agencies such as the Police, road safety officers and Fire and Rescue reinforce the importance of the rule of law, ensuring children understand how this relates to them as future citizens and how their actions may impact on others.

At the beginning of every year, staff collaborate with children in each class to create their rights and responsibilities, which encourages them to think about how they can contribute positively to the lives of those within school and the wider community. From an early age in the Foundation Stage, they are taught the rules and learn to understand the difference between right and wrong in all aspects of school life throughout the day. Our ethos and behaviour policy are based on mutual respect and the language of choice, so children are aware of the consequences of not following the rules, and opportunities for them to put right what has been done wrong, is encouraged wherever possible.

The school also undertakes daily assemblies, along with PSHE, MINDMATE and RE lessons that promote diversity and identity, and uphold traditional values of respect, tolerance and empathy. Members of different faiths and religions are encouraged to share their knowledge to enhance learning and deepen understanding. Throughout school life, the children are encouraged to discuss differences between people such as their faith, ethnicity, disability, gender or sexuality, and also differences in family life such as looked after children or young carers. In KS1, children are taught about their home country, as part of 'Our World' topic and people from other UK countries are invited to come and share language/accent differences and experiences so that children learn about valuing the similarities and differences between themselves and others. Over the course of KS2, children study (as part of their topic lessons) apartheid laws; child labour in Victorian times; life in the Brazilian favelas and the discrimination and oppression incurred during the Holocaust, which develops their knowledge of human rights and individual liberty further, and provides insight into homelessness and the experiences of refugees - then and now. Organisations and initiatives set up after World War Two, including NATO and the U.N, allow children to explore to a
greater depth how rights come with responsibilities and that individual human rights can sometimes conflict with the circumstances in a country.

Parental Comments
As part of a questionnaire to parents one of the questions asked: What do you think is meant by the term, 'British values'?
There was a range of answers but the most common were as follows:
Fair Play Honesty Integrity
Politeness Respect of others beliefs Heritage
Learning about Heritage
As a school we believe that understanding of our children's own heritage is a vital part of valuing themselves and their community as well as helping individuals to have tolerance and respect for everyone in our society. Our 'Stephen Lawrence' work has involved the study of countries, such as Poland and China, where some of our children originate, whilst we also study our heritage closer to school. One such study undertaken by our Year 4 children involved a research project about the Skatcherd Shield. Below are some of their research findings:
The Skatcherd Shield
The shield has been with the school for over 50 years, since 1962, and is now mounted in a cabinet and hung on a wall in the reception area, outside the leadership office. It has an inset picture of Queen Victoria (1819-1901) and written across the top it says 'Morley Elementary School Challenge Trophy for Athletic Sports.' An angel stands above a crest directly above the picture of Queen Victoria, while below a relief of boys and girls can be seen taking part in various sporting activities, including running, cycling and jumping.
In the centre and directly below the image of the Queen is a miniature plaque which carries the words 'Oliver Scatcherd, Morley, AD 1900, being the second year of his mayorality of the borough. On the occasion of his founding an annual athletics competition, with the desire it may help to foster and encourage healthy and beneficial athletic exercise.'
The former mayor was, by all accounts, quite a character.
In fact, the Scatcherd family has a long association with Morley but Oliver was the last of his line to live in the town.
He was born at Morley House in 1833 and was the sixth youngest child of Norrison, a local historian. He worked as a solicitor and had a passion for sport, especially cricket, being the founding member of Morley Nelson Cricket Club. In 1862 and 1863, he helped organise a visit by the All England Eleven to Morley and he was one of the 22 who played against them.
He also helped form the northern branch of the Royal Society for the Prevention of Cruelty to Animals and for the first seven years of its existence, was its secretary.
He married Alice Smith, who was both talented and wealthy and had a reputation as a vociferous supporter of the equal rights movement. He first became a councillor in 1886 and served as one until his death almost 20 years later.
"He was mayor in 1898 and 1899, a period characterised by his and his wife's passion to improve the lives of schoolchildren. The inter-school shield was first won in 1900 by St Peter's and was keenly contested each year thereafter." Clive McManus, chair of Morley Local History Society, visited the school to tell children more about the shield, along with Coun Shirley Varley, a former pupil at Peel Street Girls who recalls taking part in some of the events as a child.
Mr McManus said: "Some of the events were quite fun. There was a three-legged race, an egg and spoon race, a potato race, which involved children running a distance and having to pick up potatoes, then run back. There was also a sack race, a wheelbarrow race, cycling, skipping, an event where you had to knock wickets down.
"There were five elementary schools in Morley in 1900, catering for four-12 year-olds."
Coun Varley said: "I remember us going up to the cricket club as part of the annual sport event. I was one of the fastest girls and I ran the 100yds in 12.1 seconds, a record which stood for some years.
"School was different in those days, boys and girls were taught separately and there were different events for the boys and different ones for the girls."
However, the last time the shield was presented was in 1962 to Peel Street School (now Seven Hills Primary).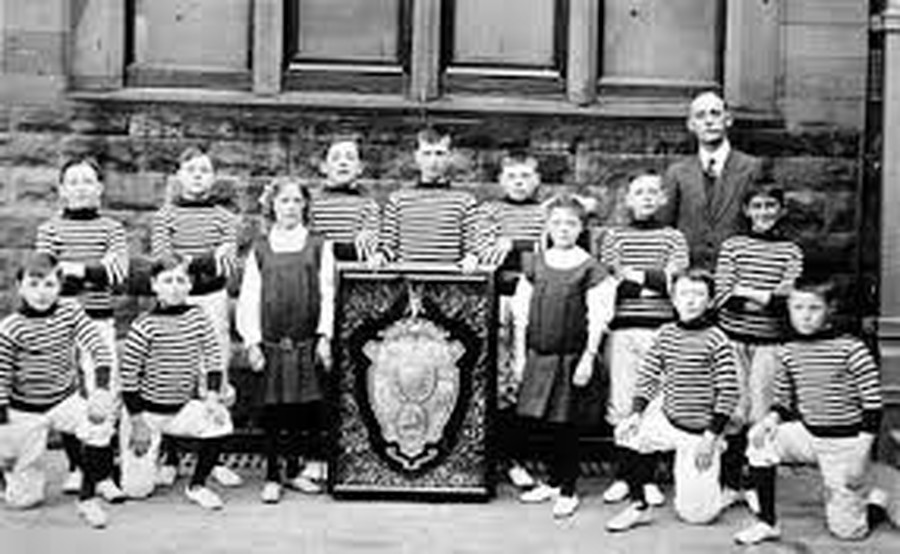 Many thanks to the Yorkshire Evening Post for their support in the research on the shield.
Last summer we also held a Community & Heritage day where visitors came in to school to talk about Morley's rich heritage and we visited many important areas, such as the Beryl Burton park and the Groundswork Trust, where they looked at aspects of Morley's Industrial past, present and future.