British Values
What are British values?
According to Ofsted, British values are:
democracy;
the rule of law;
individual liberty;
mutual respect for and tolerance of those with different faiths and beliefs and for those without faith
At Seven Hills Primary School we value the diverse ethnic backgrounds of all pupils and families and undertake a variety of events and lessons to celebrate these. We have found this approach to be enriching for all parties as it teaches tolerance and respect for the differences and similarities in our community and the wider world. Underpinning all of this is a range of International Primary Curriculum topics which have strong links to citizenship and international learning, and the SMSC .curriculum. (SMSC stands for spiritual, moral, social and cultural development)
Our Curriculum
Outlined below are just a few of the many topics that are planned for our children to study, relating to British Values:-
Reception and Nursery learn about mutual respect and friendship, and begin to understand about democracy by having a say (e.g a simple vote) in what might be in the areas of provision, or who might be a 'Learnasaurus' They also learn about the different people who work and help us in school.
Year 1 learn about mutual respect and tolerance in their 'dressing up' topic, by Researching the clothes people wear for special occasions, (linked with RE) thus enabling students to acquire an appreciation of and respect for their own and other cultures.
Year 2 learn about individual liberty and fairness by taking part in games that are deliberately biased and unfair, leading on to learning about civil rights activists such as Rosa Parks and Nelson Mandela.
Year 3 are learning to develop a chronologically secure knowledge and understanding of British, local and world history, establishing clear narratives, through their topic on Stone Age people. This includes learning about how Stone Age people developed their society, and their rules, and how similar or different these rules of law are to today's
Year 4 learn about the British Institutions that help in emergency situations, through their class novel 'Journey to Jo'Berg' and the IPC topic about earthquakes and volcanoes. This reinforces the children's understanding about democracy, and mutual respect.
Year 5 through their IPC topic 'Investigators' the children learn about the justice system in England. They explore videos and pictures of court rooms, before partaking in a class role play, and learn what it means to take part in jury service.
Year 6 consolidate their British Values learning from their time in Seven Hills, and continue to develop attitudes that will allow them to participate fully in and contribute positively to life in modern Britain.
As a whole school, we recently held whole school assemblies and class work on the importance of Remembrance Day. We held a commemoration service around the school poppy installation in the KS1 playground. The whole school attended this and it was a very moving moment, with children and adults sharing their thoughts on the many that had given their lives for peace and freedom and values of tolerance and respect for others that we hold dear. The children and adults held a two minutes silence together at 11 o'clock on November 11th.
On a more general level, the school undertakes daily assemblies which uphold traditional values of empathy, respect and tolerance. These are also taught within formal SEAL, PSHE and RE lessons and on an informal nature throughout the school day.
Learning about Heritage
As a school we believe that the understanding of our children's own heritage is a vital part of valuing themselves and their community as well as helping individuals to have tolerance and respect for everyone in our society. Our 'Stephen Lawrence' work has involved the study of countries, such as Poland and China, where some of our children originate, whilst we also study our heritage closer to school. One such study undertaken by our Year 4 children involved a research project about the Scatcherd Shield. Below are some of their research findings:
The Skatcherd Shield
The shield has been with the school for over 50 years, since 1962, and is now mounted in a cabinet and hung on a wall in the reception area, outside the leadership office. It has an inset picture of Queen Victoria (1819-1901) and written across the top it says 'Morley Elementary School Challenge Trophy for Athletic Sports.' An angel stands above a crest directly above the picture of Queen Victoria, while below a relief of boys and girls can be seen taking part in various sporting activities, including running, cycling and jumping.
In the centre and directly below the image of the Queen is a miniature plaque which carries the words 'Oliver Scatcherd, Morley, AD 1900, being the second year of his mayorality of the borough. On the occasion of his founding an annual athletics competition, with the desire it may help to foster and encourage healthy and beneficial athletic exercise.'
The former mayor was, by all accounts, quite a character.
In fact, the Scatcherd family has a long association with Morley but Oliver was the last of his line to live in the town.
He was born at Morley House in 1833 and was the sixth youngest child of Norrison, a local historian. He worked as a solicitor and had a passion for sport, especially cricket, being the founding member of Morley Nelson Cricket Club. In 1862 and 1863, he helped organise a visit by the All England Eleven to Morley and he was one of the 22 who played against them.
He also helped form the northern branch of the Royal Society for the Prevention of Cruelty to Animals and for the first seven years of its existence, was its secretary.
He married Alice Smith, who was both talented and wealthy and had a reputation as a vociferous supporter of the equal rights movement. He first became a councillor in 1886 and served as one until his death almost 20 years later.
"He was mayor in 1898 and 1899, a period characterised by his and his wife's passion to improve the lives of schoolchildren. The inter-school shield was first won in 1900 by St Peter's and was keenly contested each year thereafter." Clive McManus, chair of Morley Local History Society, visited the school to tell children more about the shield, along with Coun Shirley Varley, a former pupil at Peel Street Girls who recalls taking part in some of the events as a child.
Mr McManus said: "Some of the events were quite fun. There was a three-legged race, an egg and spoon race, a potato race, which involved children running a distance and having to pick up potatoes, then run back. There was also a sack race, a wheelbarrow race, cycling, skipping, an event where you had to knock wickets down.
"There were five elementary schools in Morley in 1900, catering for four-12 year-olds."
Coun Varley said: "I remember us going up to the cricket club as part of the annual sport event. I was one of the fastest girls and I ran the 100yds in 12.1 seconds, a record which stood for some years.
"School was different in those days, boys and girls were taught separately and there were different events for the boys and different ones for the girls."
However, the last time the shield was presented was in 1962 to Peel Street School (now Seven Hills Primary).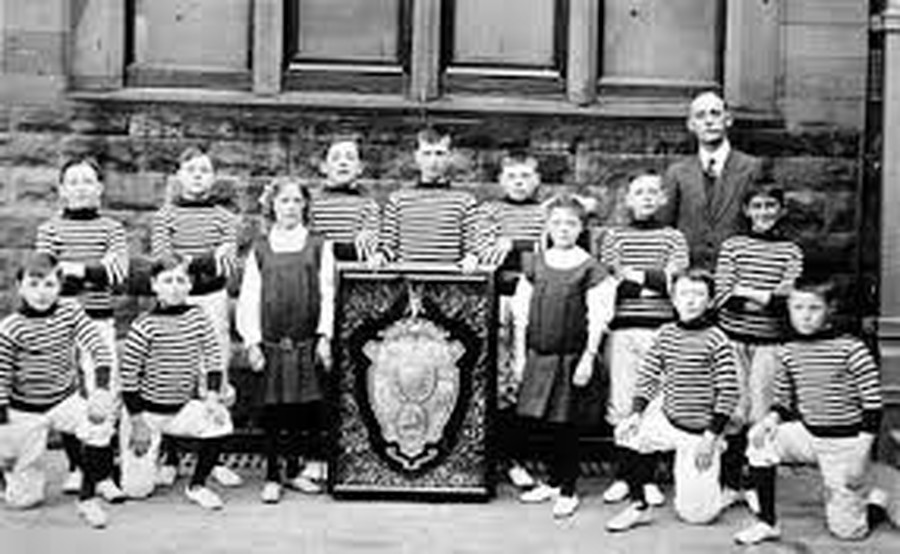 Many thanks to the Yorkshire Evening Post for their support in the research on the shield.
Coming up:
During the week commencing Tues April 18 th we will be having a whole school super learning week on 'Great British authors'. This will tie in with April 23 rd (St George's Day) and the children will be finding out about many significant authors that have penned great stories. Each year group will be concentrating on a different author, and the whole week will support the school's reading development focus.
If you have any photographs, stories or memorabilia that may help in our local or national studies or if you have anything that you would like to share with the children relating to British values, your contribution would be most welcomed and appreciated.
Click the link below to find out about how our learning in IPC this year has linked to various aspects of British Values.